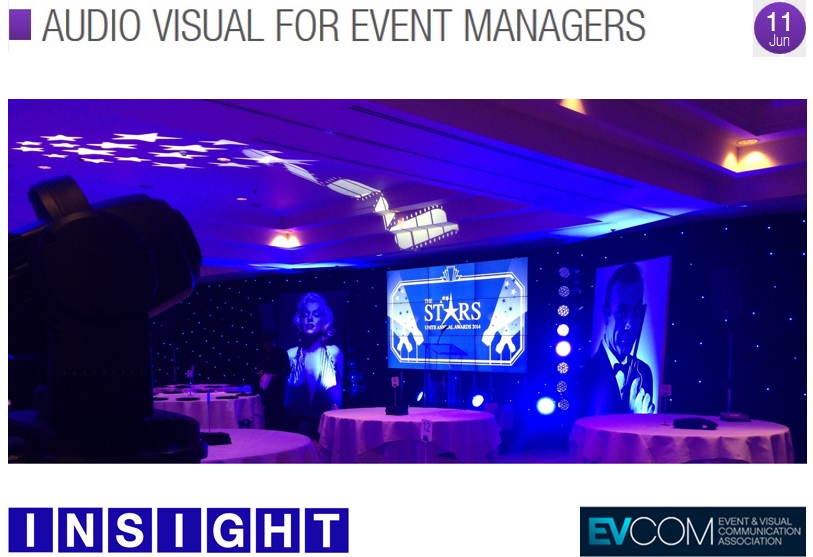 *** NB. Due to unforseen circumstances, the organisers of this event need to postpone until September 2014. Apologies to those who had planned to attend in June. Keep an eye on the EVCOM events page for the re-scheduled date, and we'll let you know here too.***

As a member of EVCOM (the official trade body for the events and visual communications industry), we were thrilled to be invited to lead an event run especially to benefit its' members.
In just a few weeks time, Ian Verge will be running Audio Visual for Event Managers; an invaluable seminar for event professionals and organisers covering the various technical requirements that event managers need to know, at the same time without getting too caught up in the jargon.
Drawing on his 30 years experience, and in handy bite-size chunks, Ian will share various 'golden rules' of audio-visual for events, equipping delegates with the tools needed to deliver value for money for the client and run exceptional events.
Here's what one delegate thought of our audio-visual training session:
"It was a very beneficial training and an amazing insight (excuse the pun) into the world of AV.  We all really appreciated your time, effort and enthusiasm and can only thank you for conducting the training for us." Event Director, Capita Travel and Events
Beyond finding out what goes on behind the scenes on the technical desk, event planners will gain an overall understanding of how to:
•        Select the best venue
•        Save time and money by getting the essentials right
•        Get the most from your AV supplier
•        Make your pre-event planning and live event run more smoothly
•        Know what is possible with AV and how to enhance your events
•        Make you sound professional and knowledgeable to your clients!